By "new Gmail Keeper" I mean a completely rewritten version of this Gmail backup tool, I think you can tell by the new user interface.
The new email viewer is a simple, Gmail-Web-alike viewer for the backup data – including the Gmail labels, the email themselves and the email attachments (open with associated, external programs, eg your MS Word).
The brand new version of Gmail Keeper will also address many of the problems in the current version, for example, the 4GB zip file size limit will be gone. I'll cover more details in the upcoming blog posts.
PS: There will be a slight price increase and the version for Google Apps will be separated and will be priced differently. So you might want to buy Gmail Keeper now and get the upgrade in your free upgrade period when this new version is out. And of course, there will be a special price for current GmailKeeper users.
BTW, the old plan for the new version of this gmail backup software was different – it was a run-locally-web-based software, and that plan had led to a new project of mine – LIVEditor (a real-time html/css/js code editor). And I changed my plan as you can see in the video. I'll reveal more details on this in the future.
If you are impatient, here is a screenshot: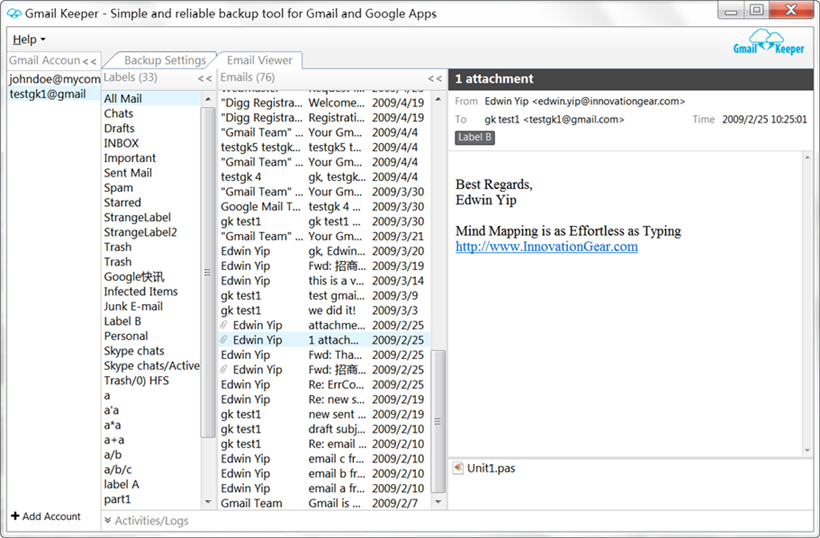 Tagged:

Gmail Backup, gmail viewer, Google Apps backup, Search gmail locally