Hi Folks,
Gmail Keeper v1.3.0.241 has been released with the following enhancements.
1. The restore function of Gmail Keeper has improved a lot:
Restore is now incremental. That means if a restore is failed due to any Gmail server issue you can simply restart it without worrying about duplicated emails being uploaded again.
Now you can restore backup data to an Gmail account that is in use, the limit of the previous versions has been removed.
The  read/unread status are now retained in the local backup archive and after restoring to a Gmail or Google Apps account. This makes Gmail Keeper a perfect tool for transferring emails from an ordinary Gmail account to a Google Apps account and the likes.
2. The backup operation is now more reliable because Gmail Keeper now checks free disk space before performing a backup, to avoid errors caused by not having enough disk space to store the Gmail backup data.
3. Gmail Keeper is now more flexible (configurable):
Allow specifying the temp folder for the backup process. This option is extremely useful when the drive in where your system temporary folder is located does not have enough space for storing the temporary files during the backup process.
Allow users to specify the number of email headers to download each time. Users can reduce this value to solve the problem that Gmail Keeper fails to download the email headers.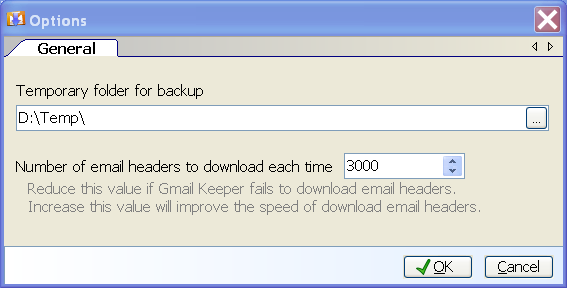 Download the latest trial version now! Paid users please contact us for the download link to the full version.
PS, We are looking for improvement ideas for the next version, anybody feel free to comment 🙂
Tagged:
incremental Gmail restore