We have just added command line support to Gmail Keeper – our lightweight and easy Gmail and Google Apps email backup software, this means that you can now start a gmail backup from other programs, or schedule your gmail backup tasks with the system scheduler,  or just create a batch file to call Gmail Keeper to start backup your backup profile set up for your Google Apps email account.
Command line options supported:
"profile name". The profile you want to start backup.
/Q. Quit Gmail Keeper once the backup is completed successfully.
/SILENT. Don't show Gmail Keeper main window when starting the program.
While the above described command line switch are quite simple and easy, Gmail Keeper makes it even easier by allowing you to  generate the command line with a helper window, try right click the desired backup profile and select 'Generate Command Line', a window look like the following one will appear, you can setup your options easily and Gmail Keeper will generate the command line for you.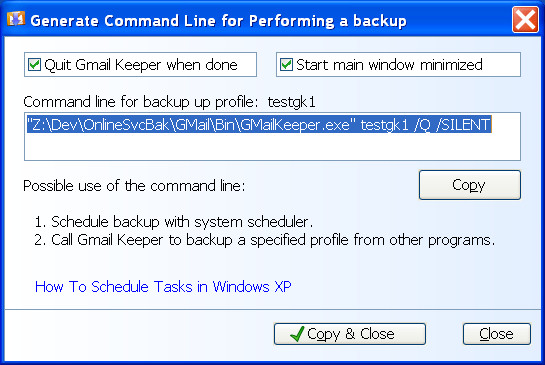 Download the latest trial version here.
Paid customers can also download their full version, contact us if you don't' have the information needed.
Tagged:

command line, system scheduler